Description
Epson raises the bar again with its cutting-edge design of the new high quality A3+ photo printer, the Epson SureColor SC-P706™, which delivers professional features including high-capacity cartridges with an expanded colour range, new printing modes, networking and wireless connectivity, large touchscreen display, plus advanced media handling. UltraChrome® PRO10 pigment ink, combined with Epson's innovative MicroPiezo® print head, enables the SC-P706 to produce gallery-quality black & white output, plus improved vivid colour prints with breathtaking blues and violets thanks to the new Violet ink that is now on board. The Epson SureColor P706 also has dedicated lines for all colours so now you do not have to wait to switch between the Photo / Matte Black ink carts saving you time and keeps you printing more efficiently. The Epson SureColor P706 is setting new benchmarks in A3+ professional photographic printing, delivering the highest D-max to date and unsurpassed black and white photography along with outstanding colour exhibition quality prints. The SC-P706 is 30% smaller than its predecessor and is ideal for amateur and semi-professional photographers and for any business that has a regular requirement for high-quality colour presentations.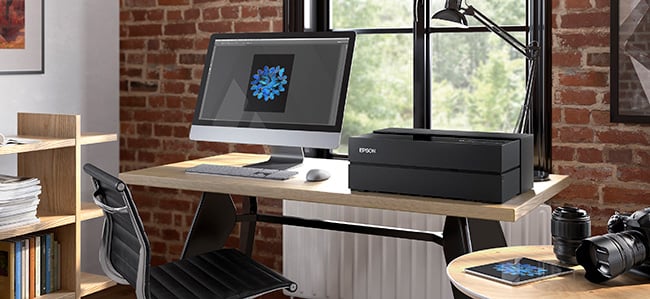 Features:
A3+ size printing

– Exhibition Quality prints up to A3+ size but in an A4 sized footprint.
Superb print quality and colour

– Epson UltraChrome Pro10 Ink with Violet, is a new industry-leading ink technology, delivering an extended colour gamut producing vibrant and rich prints.
Black Enhance Overcoat

– Our new technology provides richer blacks, better contrast and better tonality, all while reducing gloss differential in dark areas on glossy medias.
Dedicated black inks

– No more automatic switching of the Photo / Matte Black inks with both inks having their own channel in the print head that means you will be printing straight away rather than waiting for ink cartridges to switch over. Photo Black Ink produces rich, deep blacks on traditional photographic papers; while Matte Black Ink produces exceptional results on matte surface media.
Advanced Black & White Photo Mode

– Professionals can choose from pre-set modes – neutral, warm, cool, or sepia – for stunning neutral or toned black-and-white prints. This feature provides intuitive and consistent control through custom slider bars and a colour tone wheel for advanced tone adjustment. In addition, customised settings can be saved and recalled to achieve consistent prints, and using the optional downloadable Epson Print Layout software, users can automatically preview personal images with the selected settings. Epson Print Layout is now available on Apple mobile devices so you can print from anywhere.
UltraChrome Pro10 ink cartridges

– These new ink cartridges come in 10 different colours including 4 types of black and 6 colours including Violet ink which helps to expand the colour gamut on these new models. These inks also offer great lightfastness and if displayed properly will last a lifetime*.
Built in roll paper support

– The Epson SureColor SC-P706 has a new built in roll paper unit making continuous, high quality photograph printing absolutely straightforward. This feature makes the printer ideal for photographers looking for simple yet high quality panoramic prints with edge-to-edge BorderFree photo printing on sizes up to A3+.
CD/ DVD Printing

– In keeping with Epson's precision CD/DVD surface printing tradition, the Epson SureColor SC-P706 supports high quality printing directly on to the surface of compatible inkjet printable 8cm and 12cm CD-Rs and DVDs.
Wired or wireless connectivity

– The SC-P706 can connect via Ethernet sharing the printer on your network or by the latest wireless standard, WiFi 5, 802.11 ac 5 GHz. Wi-Fi Direct® means no router is required enabling users to easily connect to wireless networks in seconds, allowing printing from virtually any room in the office.
Customisable 4.3" touchscreen with gesture control

– The SureColor SC-P706 has a built-in 4.3" touchscreen with a keypad and gesture navigation that features an impressive touch sensitive customisable LCD display panel which allows you to check the printer status, ink levels and perform routine maintenance tasks along with a variety of other tasks all with a swipe of the screen. You can even set the background to be the print you are printing for an added look.
SPECIFICATIONS
SIZE
Max Print Width
13 inch (330.2mm)
Max Sheet Size
A3+
PRINT TECHNOLOGY
Print Head
Epson Micro Piezo™
Print Modes
Uni & Bi-directional
Features
Variable Sized Droplet Technology (VSDT)
Advanced Epson LUT
Enhanced Colour Density
Enhanced Print Durability
Black enhance overcoat
Nozzle Configuration
180 per colour
Active Channels
10 (Dedicated Pk / Mk ink lines)
Max Resolution
5760 x 1440 optimised dpi
Min Droplet Size
1.5pl
INK SYSTEM
Family
UltraChrome® Pro10
Type
Aqueous all-pigment
Colours
10
Cartridge Size
25ml
PERFORMANCE
A4
2 minutes
A3+
3.28 minutes
4" x 6" borderless
48 seconds

Figures represent print times only based on the test sample image as shown, produced on Premium Gloss Photo Paper in Standard/Quality (1440x720dpi) mode. The total throughput time for a particular image will depend on a number of factors including the PC, software application, workflow configuration, networking, file format / size, image content, paper type and print mode.

MEDIA SUPPORT
Format
Cut Sheet & Roll media
Printable CD's & DVD's
Size
3.5" x 5" (89 x 127mm) to 13" x 19" (329 x 482.6mm) sheets
13" (330.2mm) wide with 2" core rolls
(max roll diameter 82mm)
12" standard shaped printable optical media
Thickness
ASF:
PlainPaper?0.08 - 0.11mm
Genuine Media : 0.08 - 0.50 mm
Front Thick Paper Path : 0.5 - 0.7 mm
Front Straight Path : 0.7 - 1.5 mm
Roll Paper Path : 0.08 - 0.70 mm
Min Margins (Normal Printing)
3mm all directions on standard sheets
3mm left & right, 20mm top & bottom on thick sheets
50mm top, 14mm bottom on rolls
18mm interior diameter margin (21mm recommended) with max 120 diameter total print area on optical media
Borderless Printing (Supported on nominated paper widths for roll media and standard thickness sheets)
A4, A3, A3+ (329 x 483mm), Letter (8.5"x11"), 3.5"x5" (90x130mm), 4"x6" (100x150mm), 16:9 (102x181mm), 5"x7" (130x180mm), 5"x8" (130x200mm), 8"x10" (200x250mm), 10"x12" (254x305mm), 11"x14" (279x356mm) 11"x17" (280x430mm), 12"x12" (300x300mm) sheets

13" (329mm) wide rolls
Max Print Length
18m
Loading
Top rear sheet feeder for plain and photo paper
Front manual for fine art & poster board
Rear roll paper unit (built in)
Roll Handling
Integrated support, operation requires manual cutting
Output
Front with extendable tray
Double Sided Printing
Supported via manual loading however please refer to the user guide, and contact Epson or your authorised dealer before selecting any media for this purpose in order to check suitability.
OPERATION
Control Panel
4.3" Touchscreen Colour LCD
Interface
High Speed USB 3.0
Ethernet 10Base-T / 100Base-TX
Wi-Fi 5 (IEEE802.11 b/g/n/ac)
Included Software (Windows)
Printer Driver, Print CD, EpsonNet Config, EpsonNet Setup, EpsonNet Print, Software Updater and Firmware updater on CD
Web Downloads

(Windows)
Printer Driver, Epson Print Layout, ColorBase2, Epson Media Installer, Photo+, E-Web Print, Firmware Updater & software uninstaller
Web Downloads

(Mac)
Printer Driver, Epson Print Layout, ColorBase2, Epson Media Installer, Photo+, EpsonNet Config, EpsonNet Setup, Software Updater, Firmware updater & software uninstaller
OS Compatibility
Mac OS X 10.6.8 or later
Windows 10, 8/8.1, 7,
3rd Party S/W Compatibility
Compatible with a wide range of design, production, workflow management, and RIP software
Memory
256MB
Language
ESC/P Raster
ENVIRONMENT
Operational Temp
10° to 35° C (15-25° C recommended)
Operational Humidity
20 to 80% with no condensation (40-60% recommended)
Power Supply
220 – 240V, 50 – 60Hz AC, 0.3A
Power Consumption
22W Operating / 1.1W Sleep / 0.18W Off
Operating Noise
39dB
Operational Space
(W x D x H)
515mm x 769mm x 420mm recommended
(Additional space will be required at rear when using the straight through paper path or roll paper unit)
PHYSICAL
Dimensions (W x D x H)
515 x 368 x 185mm (sheet feeder & output tray closed)
Weight
12.7kg (excludes consumables)
What's in the box?
- SureColor P706 Printer
- Set-up guide
- User Manual/driver/utility software CD.
- Power cord
- Set of 25ml inks (a significant amount of ink will be used to charge the machine during initialization, we suggest an extra set be purchased with the printer)
1 x Maintenance tank

Please Noted: USB cable is not included
User Guide
Payment & Security
Payment methods
Your payment information is processed securely. We do not store credit card details nor have access to your credit card information.
---
Security